Christian singer Natalie Grant called upon fans for prayers before heading into thyroid surgery. During the procedure, doctors removed several tumors to find out if they were cancerous. And in a recent post on Facebook, Natalie let everyone know their prayers worked!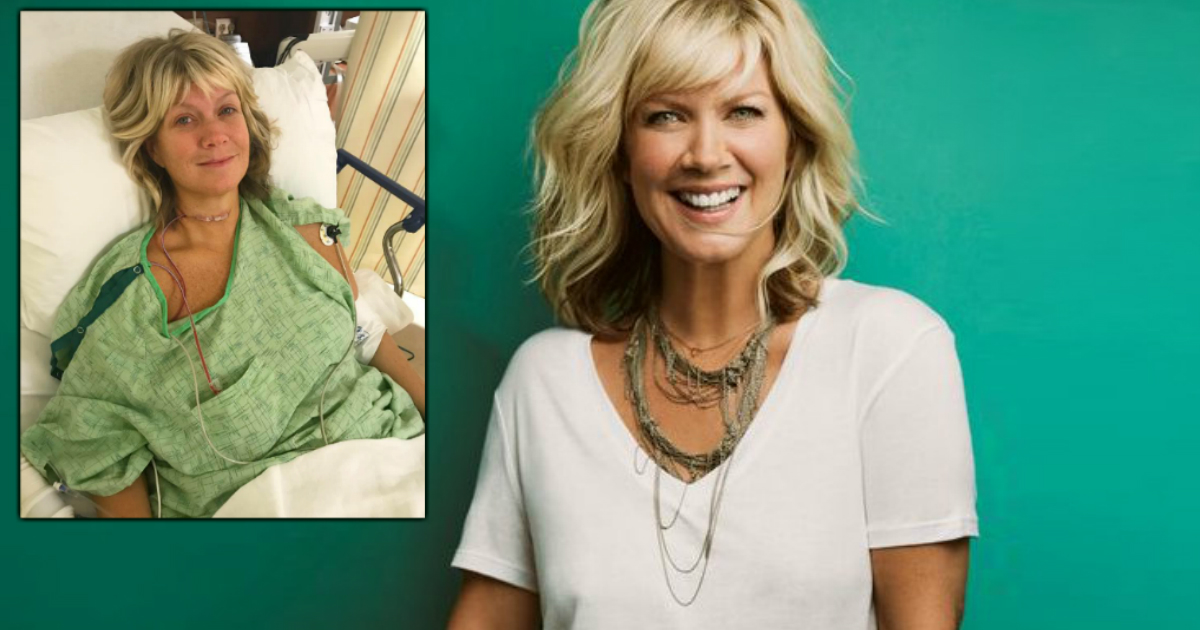 Apparently, Natalie's doctors have been monitoring several tumors or nodules on her thyroid for years. But recently, two of the tumors gave cause for concern. And so, doctors scheduled Christian singer Natalie Grant for surgery to remove and assess those tumors.
"We're the family of God and we have the opportunity to stand in the gap for one another," Natalie said in revealing the surgery to fans.
She explained how, even as scary as the "C" word is, she already considered herself blessed. Of the types of cancers, doctors assured her thyroid cancer is one of the most curable. The surgery, however, would also pose some risk to her vocal cords.
RELATED: Natalie Grant Feels God's Love In 'Clean' - Christian Music Videos
So, while calling upon fans for prayer and admitting to some fear, Natalie bravely declared her trust that God would be faithful.
"I have complete faith in my God," she said. "And He never goes back on His word. And He never breaks his promises."

WATCH: Christian Singer Natalie Grant Asks Fans To Pray For Her
Update & Prayer Request

Hi friends. Please watch for a health update and prayer request. I love and appreciate you all so much. Natalie **addition to this post for clarification: there can be no definitive diagnosis until my surgery. Your prayer, love and support are overwhelming me in the most beautiful way!**

Posted by Natalie Grant on Thursday, September 21, 2017
Natalie has an incredible faith. But she's human. And leading up to the surgery, anxiety continued to build. But Natalie doesn't just sing about God being the King of the world -- she believes it!
"I'm afraid, too..." Natalie replied when her young daughter, Sadie, expressed fear for her mama. "But my faith in God is bigger than my fear. That doesn't mean my fear goes away. It just means I'm not letting it be in charge of my mind. And I always remind myself who is in charge, anyway. GOD IS!"
Praising God All The Way To The Operating Table

Natalie went into her surgery brimming with confidence that God would prove faithful. On the drive to the hospital, she took a moment out to thank fans, pointing to the story from Mark where four men carried their sick friend to see Jesus, cutting a hole in the roof to lower him down.
"I love the passage of Scripture because it says their faith made him whole," she told her fans in a live video. "Though I have so much faith, even if I didn't, your faith is enough. Your faith has strengthened my own."

RELATED: Natalie Grant Leaves Us Speechless With 'I Need Thee Every Hour'
Later, Natalie's husband posted an update letting everyone know the surgery went well. But the true celebration began once Natalie received the pathology results. Those results show the power of prayer!
Again, the singer took to Facebook to reveal the incredible news.
Christian Singer Natalie Grant Gives Surgery Update

The reports showed the tumors doctors removed did in fact contain cancer. But here's the amazing thing. The cancer was completely contained to those two nodules the doctors removed!
"So, in other words, they got it all," Natalie explained. "The doctor's office actually said, 'Congratulations! You have no more cancer in your body!'"

And just to make sure everyone realizes what a miracle this is, Natalie continued on.
"So, it literally is like the cancer was stopped dead in its tracks, fully encapsulated inside those nodules. Not a branch out, no growth, the tested the surrounding tissue and neighboring lymph node, all of which showed no signs of cancer or cancerous cells. All of the tissue was completely clean. So, when they took out that right lobe, they took out the cancer. So, hallelujah."

RELATED: Michael Bublé's Son Miraculously Healed & Uncle Gives God The Glory
Not only is Natalie cancer-free, but doctors assured the singer her vocal cords are in "perfect working condition." It's the best possible situation they could have hoped for, and Natalie knows it's all thanks to God and prayer!
WATCH: Christian Singer Natalie Grant Gives Full Pathology Results
Pathology Report

Thank you for your continued love, support and prayers. You all have been a constant source of encouragement the last few weeks, and I am forever grateful. I wanted to give you a personal update on the pathology results and my recovery. I love you all xxoo Natalie

Posted by Natalie Grant on Monday, October 16, 2017
We're so happy to hear the good news. And it's just another wonderful testament to the power of prayer!
h/t: GodUpdates
YOU MAY ALSO LIKE: Gospel Singer Carman is Cancer-Free, Credits 'God's Grace' and Prayers of Fans